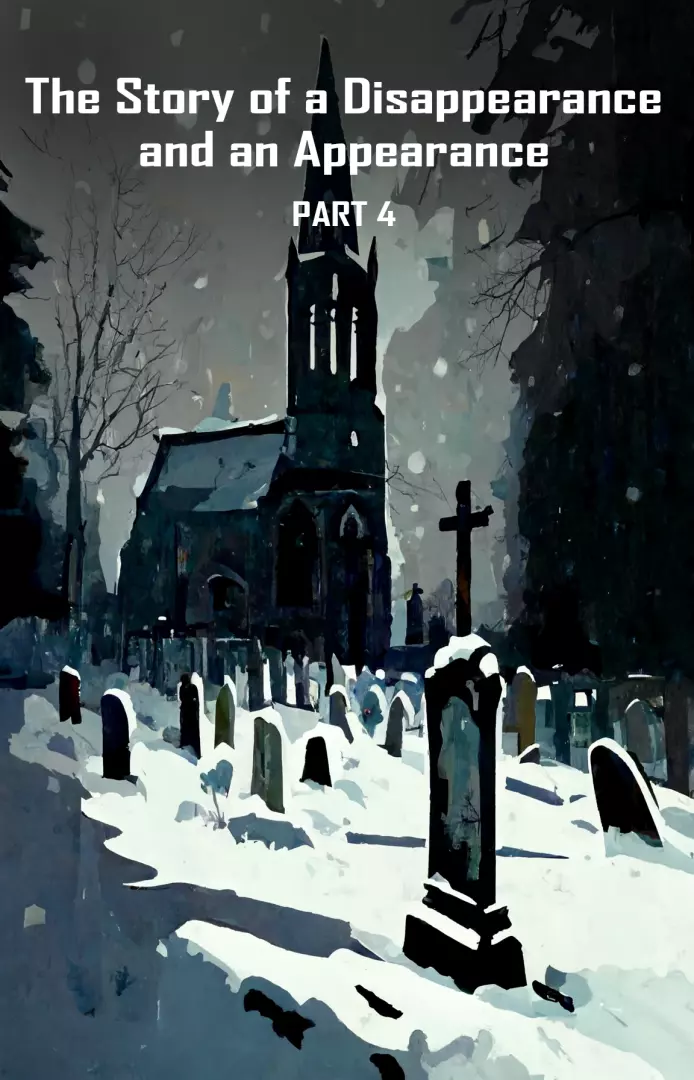 The Story of a Disappearance and an Appearance Letter IV
LETTER IV
Dec. 26, '37.
My Dear Robert,
All is over. The body has been found. I do not make excuses for not having sent off my news by last night's mail, for the simple reason that I was incapable of putting pen to paper. The events that attended the discovery bewildered me so completely that I needed what I could get of a night's rest to enable me to face the situation at all. Now I can give you my journal of the day, certainly the strangest Christmas Day that ever I spent or am likely to spend.
The first incident was not very serious. Mr. Bowman had, I think, been keeping Christmas Eve, and was a little inclined to be captious: at least, he was not on foot very early, and to judge from what I could hear, neither men or maids could do anything to please him. The latter were certainly reduced to tears; nor am I sure that Mr. Bowman succeeded in preserving a manly composure. At any rate, when I came downstairs, it was in a broken voice that he wished me the compliments of the season, and a little later on, when he paid his visit of ceremony at breakfast, he was far from cheerful: even Byronic, I might almost say, in his outlook on life.
'I don't know,' he said, 'if you think with me, sir; but every Christmas as comes round the world seems a hollerer thing to me. Why, take an example now from what lays under my own eye. There's my servant Eliza—been with me now for going on fifteen years. I thought I could have placed my confidence in Elizar, and yet this very morning—Christmas morning too, of all the blessed days in the year—with the bells a ringing and—and—all like that—I say, this very morning, had it not have been for Providence watching over us all, that girl would have put—indeed I may go so far to say, 'ad put the cheese on your breakfast table——' He saw I was about to speak, and waved his hand at me. 'It's all very well for you to say, 'Yes, Mr. Bowman, but you took away the cheese and locked it up in the cupboard,' which I did, and have the key here, or if not the actual key one very much about the same size. That's true enough, sir, but what do you think is the effect of that action on me? Why it's no exaggeration for me to say that the ground is cut from under my feet. And yet when I said as much to Eliza, not nasty, mind you, but just firm like, what was my return? 'Oh,' she says: 'Well,' she says, 'there wasn't no bones broke, I suppose.' Well, sir, it 'urt me, that's all I can say: it 'urt me, and I don't like to think of it now.'
There was an ominous pause here, in which I ventured to say something like, 'Yes, very trying,' and then asked at what hour the church service was to be. 'Eleven o'clock,' Mr. Bowman said with a heavy sigh. 'Ah, you won't have no such discourse from poor Mr. Lucas as what you would have done from our late Rector. Him and me may have had our little differences, and did do, more's the pity.'
I could see that a powerful effort was needed to keep him off the vexed question of the cask of beer, but he made it. 'But I will say this, that a better preacher, nor yet one to stand faster by his rights, or what he considered to be his rights—however, that's not the question now—I for one, never set under. Some might say, 'Was he a eloquent man?' and to that my answer would be: 'Well, there you've a better right per'aps to speak of your own uncle than what I have.' Others might ask, 'Did he keep a hold of his congregation?' and there again I should reply, 'That depends.' But as I say—Yes, Eliza, my girl, I'm coming—eleven o'clock, sir, and you inquire for the King's Head pew.' I believe Eliza had been very near the door, and shall consider it in my vail.
The next episode was church: I felt Mr. Lucas had a difficult task in doing justice to Christmas sentiments, and also to the feeling of disquiet and regret which, whatever Mr. Bowman might say, was clearly prevalent. I do not think he rose to the occasion. I was uncomfortable. The organ wolved—you know what I mean: the wind died—twice in the Christmas Hymn, and the tenor bell, I suppose owing to some negligence on the part of the ringers, kept sounding faintly about once in a minute during the sermon. The clerk sent up a man to see to it, but he seemed unable to do much. I was glad when it was over. There was an odd incident, too, before the service. I went in rather early, and came upon two men carrying the parish bier back to its place under the tower. From what I overheard them saying, it appeared that it had been put out by mistake, by some one who was not there. I also saw the clerk busy folding up a moth-eaten velvet pall—not a sight for Christmas Day.
I dined soon after this, and then, feeling disinclined to go out, took my seat by the fire in the parlour, with the last number of Pickwick, which I had been saving up for some days. I thought I could be sure of keeping awake over this, but I turned out as bad as our friend Smith. I suppose it was half-past two when I was roused by a piercing whistle and laughing and talking voices outside in the market-place. It was a Punch and Judy—I had no doubt the one that my bagman had seen at W——. I was half delighted, half not—the latter because my unpleasant dream came back to me so vividly; but, anyhow, I determined to see it through, and I sent Eliza out with a crown-piece to the performers and a request that they would face my window if they could manage it.
The show was a very smart new one; the names of the proprietors, I need hardly tell you, were Italian, Foresta and Calpigi. The Toby dog was there, as I had been led to expect. All B——turned out, but did not obstruct my view, for I was at the large first-floor window and not ten yards away.
The play began on the stroke of a quarter to three by the church clock. Certainly it was very good; and I was soon relieved to find that the disgust my dream had given me for Punch's onslaughts on his ill-starred visitors was only transient. I laughed at the demise of the Turncock, the Foreigner, the Beadle, and even the baby. The only drawback was the Toby dog's developing a tendency to howl in the wrong place. Something had occurred, I suppose, to upset him, and something considerable: for, I forget exactly at what point, he gave a most lamentable cry, leapt off the foot board, and shot away across the market-place and down a side street. There was a stage-wait, but only a brief one. I suppose the men decided that it was no good going after him, and that he was likely to turn up again at night.
We went on. Punch dealt faithfully with Judy, and in fact with all comers; and then came the moment when the gallows was erected, and the great scene with Mr. Ketch was to be enacted. It was now that something happened of which I can certainly not yet see the import fully. You have witnessed an execution, and know what the criminal's head looks like with the cap on. If you are like me, you never wish to think of it again, and I do not willingly remind you of it. It was just such a head as that, that I, from my somewhat higher post, saw in the inside of the show-box; but at first the audience did not see it. I expected it to emerge into their view, but instead of that there slowly rose for a few seconds an uncovered face, with an expression of terror upon it, of which I have never imagined the like. It seemed as if the man, whoever he was, was being forcibly lifted, with his arms somehow pinioned or held back, towards the little gibbet on the stage. I could just see the nightcapped head behind him. Then there was a cry and a crash. The whole show-box fell over backwards; kicking legs were seen among the ruins, and then two figures—as some said; I can only answer for one—were visible running at top speed across the square and disappearing in a lane which leads to the fields.
Of course everybody gave chase. I followed; but the pace was killing, and very few were in, literally, at the death. It happened in a chalk pit: the man went over the edge quite blindly and broke his neck. They searched everywhere for the other, until it occurred to me to ask whether he had ever left the market-place. At first everyone was sure that he had; but when we came to look, he was there, under the show-box, dead too.
But in the chalk pit it was that poor Uncle Henry's body was found, with a sack over the head, the throat horribly mangled. It was a peaked corner of the sack sticking out of the soil that attracted attention. I cannot bring myself to write in greater detail.
I forgot to say the men's real names were Kidman and Gallop. I feel sure I have heard them, but no one here seems to know anything about them.
I am coming to you as soon as I can after the funeral. I must tell you when we meet what I think of it all.