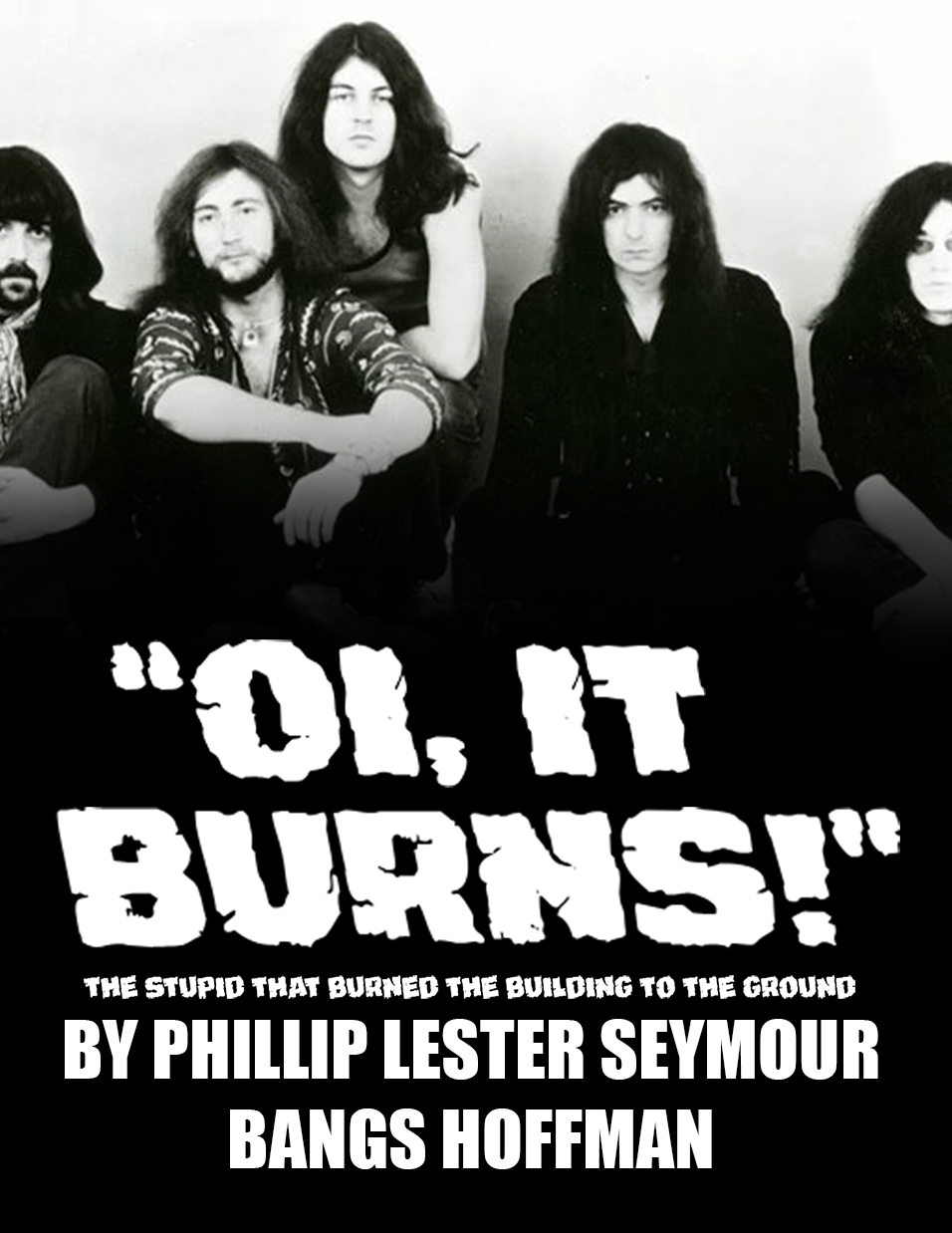 "Oi, It Burns!" the Stupid That Burned the building to the ground
By Phillip Lester Seymour Bangs Hoffman
British Rock band Deep Purple is known for hard driving drums, loud droning, melodic keyboards, heavy basslines, and loud, screeching guitars and vocals. But I bet you didn't know the true story behind their classic "Smoke on the Water", did you?
At this point, Deep Purple had one U.S. top 40 hit, a cover of Joe South's "Hush." They languished slightly, went through a lineup change replacing vocalists Rod Evans with Ian Gillian and Nick Semper with Roger Glover. They tried a musical change by combining hard rock with symphonic music, but it didn't click. They shifted to what they are more known for today, basically (along with Black Sabbath and Led Zeppelin) as Godfathers of Heavy Metal. 
After recording In Rock, Deep Purple was in financial dire straits. Overworked, with little to show for it.
And who came to their rescue?
You wouldn't believe it.
Jerry Lewis.
Yes. That Jerry Lewis. The comedian who made it big in the late '40s as a duo with Dean Martin and made a huge impact on the French (even to the point wanting to appoint Lewis as their President without holding elections) with a string of hit films such as the Nutty Professor. Lewis was feeling old and realized he'd lost that connection he once had with anyone under 12 and decided to embark on a tour as a psychedelic crooner.
But he needed a backing band. 
"A groovy band, sweetheart," as he told one female journalist he convinced to sit on his lap, in 1970.
How that came to be was Lewis shared the same manager as Deep Purple, legendary confidence man, Chips De-oink.
This was just another less smart decision on the band's part for trusting manager De-oink.
 Twenty minutes into the first concert in Swindon, U.K., Lewis had a tendency to delve into shtick, such as placing drumsticks up his nose and getting stuck, or getting into a fist fight with guitarist Richie Blackmore for telling the audience his surname was a reference to Blackmore's family being slaves in Barbados. 
The band quit the tour that night.
Two days later, Lewis called. Saying, "I need youse help. A guy from Californ-i-a, called and said we go to Montreux. Two hundred thousand dollars, men. Come on, lil' babies. Uncle Jerry needs your help for one more show."
They agreed—but only if Lewis would not do his drumstick in the nose shtick or refer to Blackmore as the "Slave boy who can really play the Ukulele."
They really shouldn't have agreed.
One source claims, Lewis, once again, showed his ass to the band. Picking a fight with who he called "that pol-lock Frank Zapper guy who talks weird" Another source says, while at the casino trying to impress a Swiss girl too young to spell her name in the casino, Zappa walked in and proclaimed, "Some little Jewish guy leaked oil all the way from the entrance." Pushing and shoving ensued. A fight broke out between both celebs' entourage, while Zappa and Lewis crawled away to hide separately.
To get even, Lewis decided he would disrupt Zappa's concert. He stole what he thought was a BB gun from the Casino security. 
In actuality, it was a flare gun.
Lewis fired and the flare zoomed by Zappa's face, catching a beam on fire. The flames rippled through the roof. Zappa coolly called out to the audience, saying, "I don't want to alarm anyone, but… we're all going to die! Fire!!!!!"
Panic. Tramplings. Screams. 
Some members of the audience remember hearing a man scream, "Oi! It burns!" as he ran out of the building, climbing over people like a spider monkey from hell.
There you have it. The truth behind one of rock's greatest anthems:  "But some stupid with a flare gun, burned the place to the ground."
Deep Purple made out all right from this disastrous concert. Frank Zappa got a really cool story to chastise interviewers with. And Mr. Lewis? Well, he still hosted the MDS Telethon for decades. But Zappa got his revenge by secretly financing Lewis' career ending film "Hardly Working."