Pinup: Anne Marquis
Where are you from? What is your background?
I was born in Cleveland, OH on August 29, 1967. My family moved to Saint Paul, Minnesota when I was six. I went to college in central Minnesota, spent three academic terms in France and landed back in the Twin Cities area after college. I was supposed to have gone to law school, but just couldn't face three more years of school. I spent the next fifteen years in corporate America. I left my job in 2004 to raise my family full-time. In 2016, I opened my personal training business and started modeling.
What inspired you to become a model?
When I was 47, I entered a bodybuilding competition. It's very common to do a photo shoot in conjunction with a competition as a 'souvenir' of all the hard work done to get on stage. I hated the competition part of bodybuilding, but loved the photo shoot. I had originally intended to be a competitive bodybuilder as a hobby, but switched gears and pursued freelance modeling projects instead. Three years later, I submitted my portfolio to commercial modeling agencies. I was offered representation by all four of the agencies to which I applied.
What are the pluses and minuses of modeling?
Modeling is the easiest job on a set. All of my hard work is done in the gym and the kitchen, so when I arrive on set, it's playtime. No one ever asks a model to make decisions or provide input. I'm simply a prop that moves. The production crew has to arrive early in the morning to stage a shoot, I get to show up hours later, sit in a chair and have my hair, makeup and wardrobe done for me. I do my part in front of the camera, and get to go home. The rest of the crew then has to do post-production for hours afterward. The only downside to commercial modeling is the inconsistency of the work. I never know when my next gig is going to happen, so I cannot count on the money for my day-to-day expenses. But when those paychecks do arrive, it's bonus money for me and my family.
What performer or artist/writer inspires you the most?
My favorite model of all time is Jill Goodacre, the Victoria's Secret model from the 1980s. She has that girl-next-door quality with a heavy dose of sex appeal. I've emulated her for decades. But my all-time favorite artist is Neil Peart, the drummer from the Canadian rock group Rush. He was the artist's artist: musician, poet, philosopher and comic. His struggles with life in the limelight are well documented He was a very humble man with a massive talent. In his own words, he was embarrassed by the attention he received just for doing what he loved to do. That mixture of talent, humility and humanity made him legendary, and my number one inspiration.
What other areas of art are you involved in?
In addition to being a model, I am a certified personal trainer, makeup artist and writer. But my most important role is as a mother. I consider myself more of an entrepreneur than an artist. But every area of my life requires me to be creative, artistic, disciplined and improvisational.
Do you think your environment, where you live, has an effect on type of art you create?
I am a Minnesota Girl. We enjoy a constantly changing Theater of Seasons. I love to shoot outdoors, so concepts and wardrobe for a shoot are determined by the weather. Sometimes I'll shoot in a bikini in a canoe on a lake, another time I'll be in winter gear dancing on the ice. Outdoor shoots in the fall are my favorite, the colorful trees and an October blue sky make the best backdrop.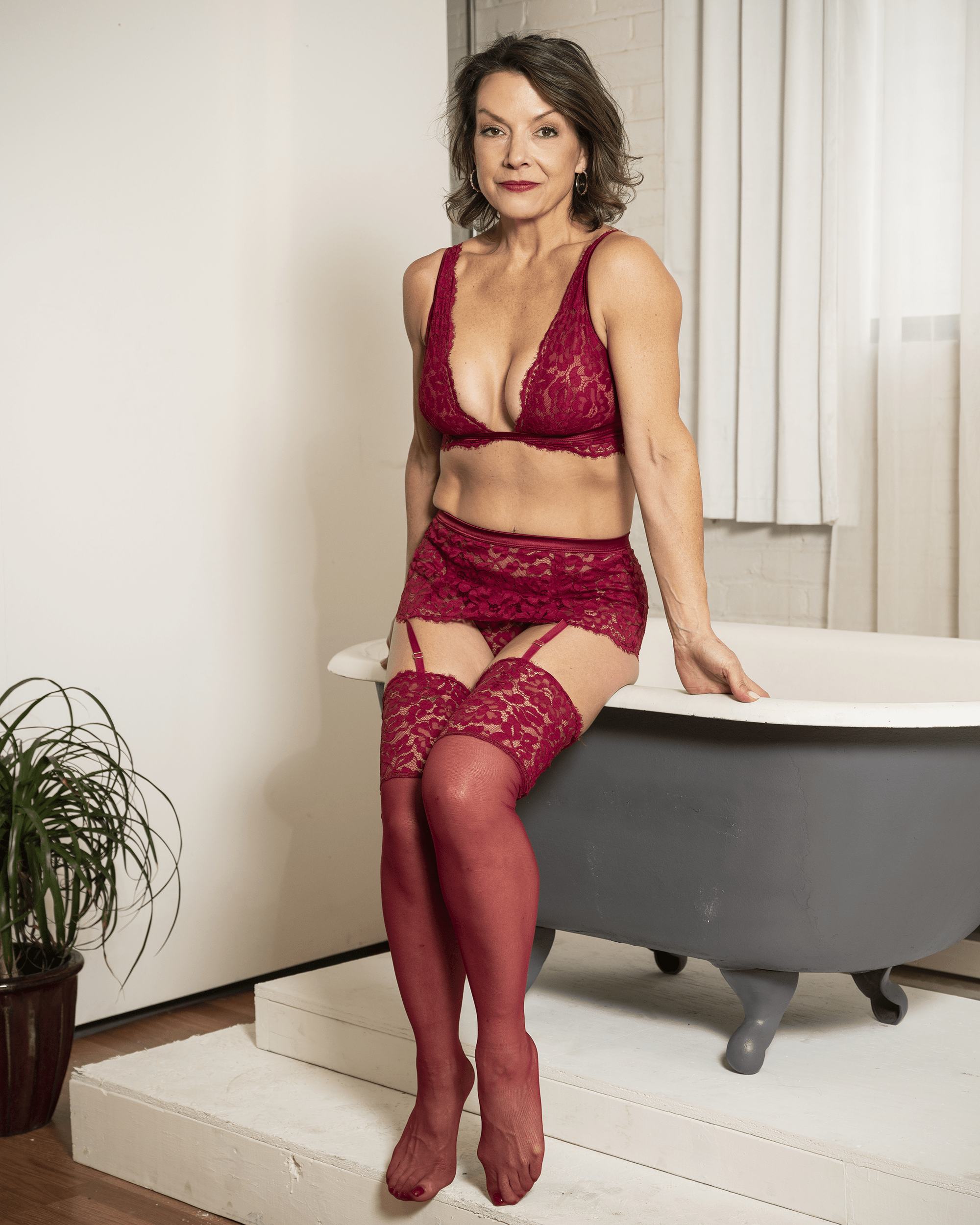 What long term goals do you have?
I intend to continue modeling and personal training until I can't anymore. I have no plans to retire. I love what I do too much to walk away from it. I will be an empty nester in a few years. At that time, I'll give myself permission to dream new dreams and pursue new goals. But for now, I'm content.
What do you think the popular culture will be like in ten years?
I'm 55 years old, so I've seen many pop culture cycles. Ten years from now, we will be nostalgic for the '90s. I was given some great advice once: if you wore the style the first time, you don't have to wear it the second time it comes around. With age comes a certain freedom from pop culture.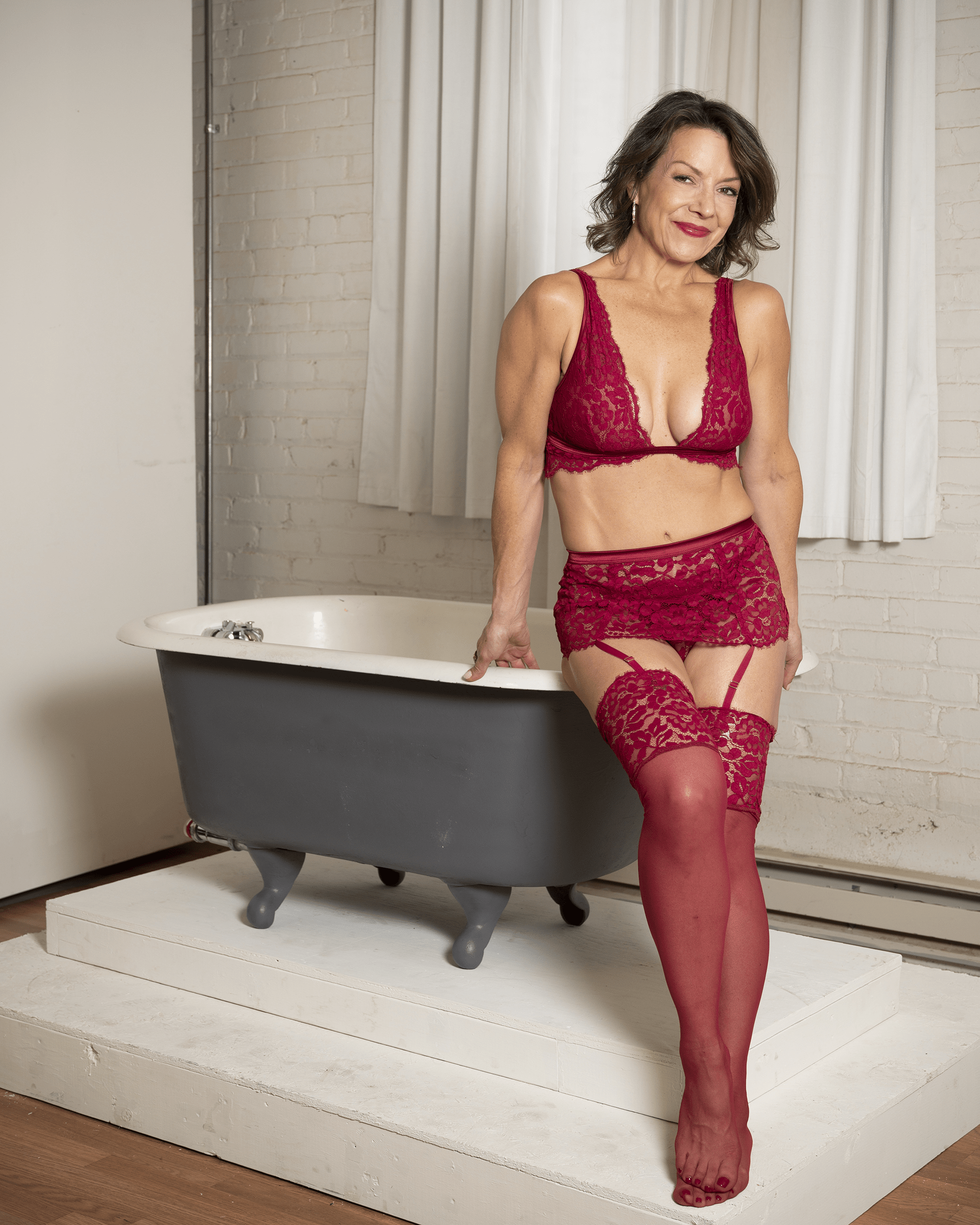 What's the strangest thing you've been asked to do in your profession?
I've been asked to do some very inappropriate things as a model. It unfortunately comes with the territory. Not every photographer is a pornographer, but some of them really push limits on the set. The strangest request I ever got was from a Facebook group that wanted before-and-after pictures of my bunionectomy. I passed on that "opportunity."
What projects are you working on now?
My number one project right now is raising my children. Professionally, my training business is back up to pre-pandemic levels, modeling gigs are rolling in on a regular basis, and I've got a growing social media presence, all of which keep me hopping. And, I'm single, so I'm still searching for my Permanent Plus One.