Pin-up: Mandy Frank
Where are you from? What is your background?
I was born and raised in Pittsburgh, Pennsylvania. I grew up loving city life. Staying out late with the neighborhood kids, walking to the local movie theater, and playing hide and seek after dark (we called that release).
I now live about an hour south of Pittsburgh, way out in the country. I enjoy long rides on my ATV and bonfires. I also have a lot of room for my 3 classic cars and my old skool Harley.
I grew up a dancer focusing on ballet. I also have a love for acting. My dream was to move to NYC and get a job on broadway, but I wasn't mature enough when I graduated high school to figure all of that out.
So, I have spent a lot of time teaching dance. I really love teaching dance to children five and under. I also take roles in local theatre productions to scratch my acting itch. Who knows, maybe one day I'll be on broadway!
What inspired you to become a model?
I have always been a lover of all things vintage. I routinely say that I was born in the wrong era. It would have been so kool to live in the '50s—the cars, the cloths, the music! I would gladly turn in my iPhone for a trip back to the 1950s.
I am also huge fan of the 1940s/1950s pinup style. So, way back in 2010 I dipped my toe into pinup modeling trying to recreate some of Gil Elvgren's and Varga's images with photographers.
I spent a year or so shooting pinup style photos, but then I took some time off. During that time I thought about entering my first pinup contest, but I couldn't work up enough courage to enter one.
Then in 2016 or so, I bought my first classic car—a 1949 Plymouth Special Deluxe. Having my car got me exposure to the car kulture—car clubs, rockabilly bands, and the pinup community.
I entered my first pinup contest at the Steeltown Shakedown in 2017. That was it, I've been hooked ever since. The car kulture and pinup communities are so welcoming and encouraging!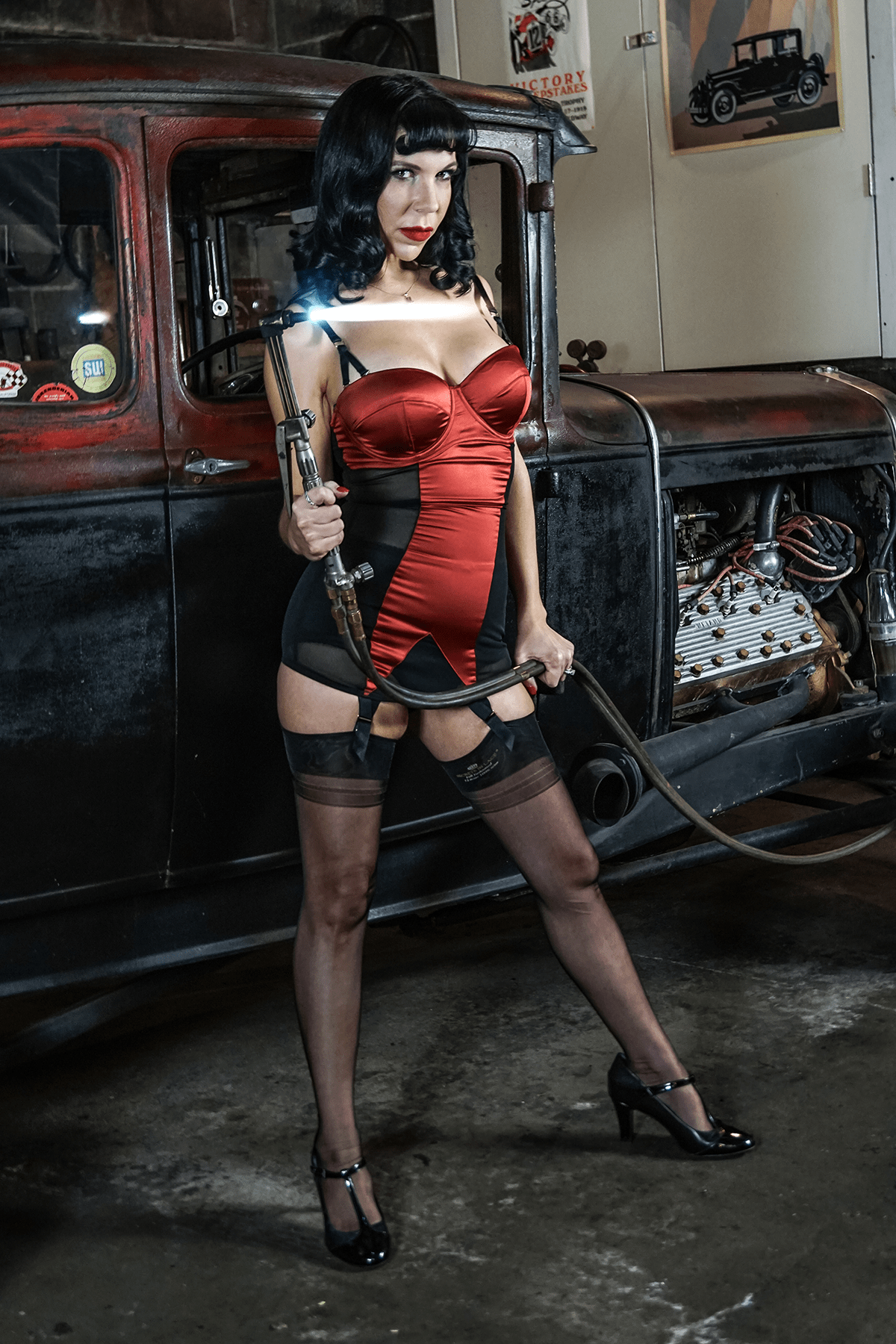 What are the pluses and minuses of modeling?
The pluses far outweigh the minuses. I get to meet a lot of really great people, I've made a lot of friends, and I get to encourage those thinking about getting into pinup modeling to take the leap!
I love watching new models learn, grow, and develop their own styles and personas. I really enjoy giving them advice, guidance, and encouragement so that they can be successful.
Pinup modeling has helped me develop confidence that I can use in other areas of my life. Confidence speaking in front of a crowd, confidence in front of a camera, and confidence in dealing with trolls on social media.
Pinup modeling also gives me motivation to eat healthy and stay in shape.
I'd say the biggest minus is the time it takes me to get ready for a shoot or a show. Two hours on hair, an hour or so on makeup, plus the time I spend figuring out my outfit.
I've also heard horror stories of creepy photographers taking advantage of models. Fortunately, I've never had that problem, but models need to be careful choosing their photographers.
What performer or artist/writer inspires you the most?
Geez… I'd say that it's too difficult to choose only one. I've been inspired by many models, photographers, musicians, dancers, and performers over the years!
It's difficult not to compare your work to others and say I'm not as good as him/her. But I've learned over time that, it's art, and we all have our own unique style and perspective.
I've taken many different ideas and concepts from many different places and used them to shape me into who I have become as a model.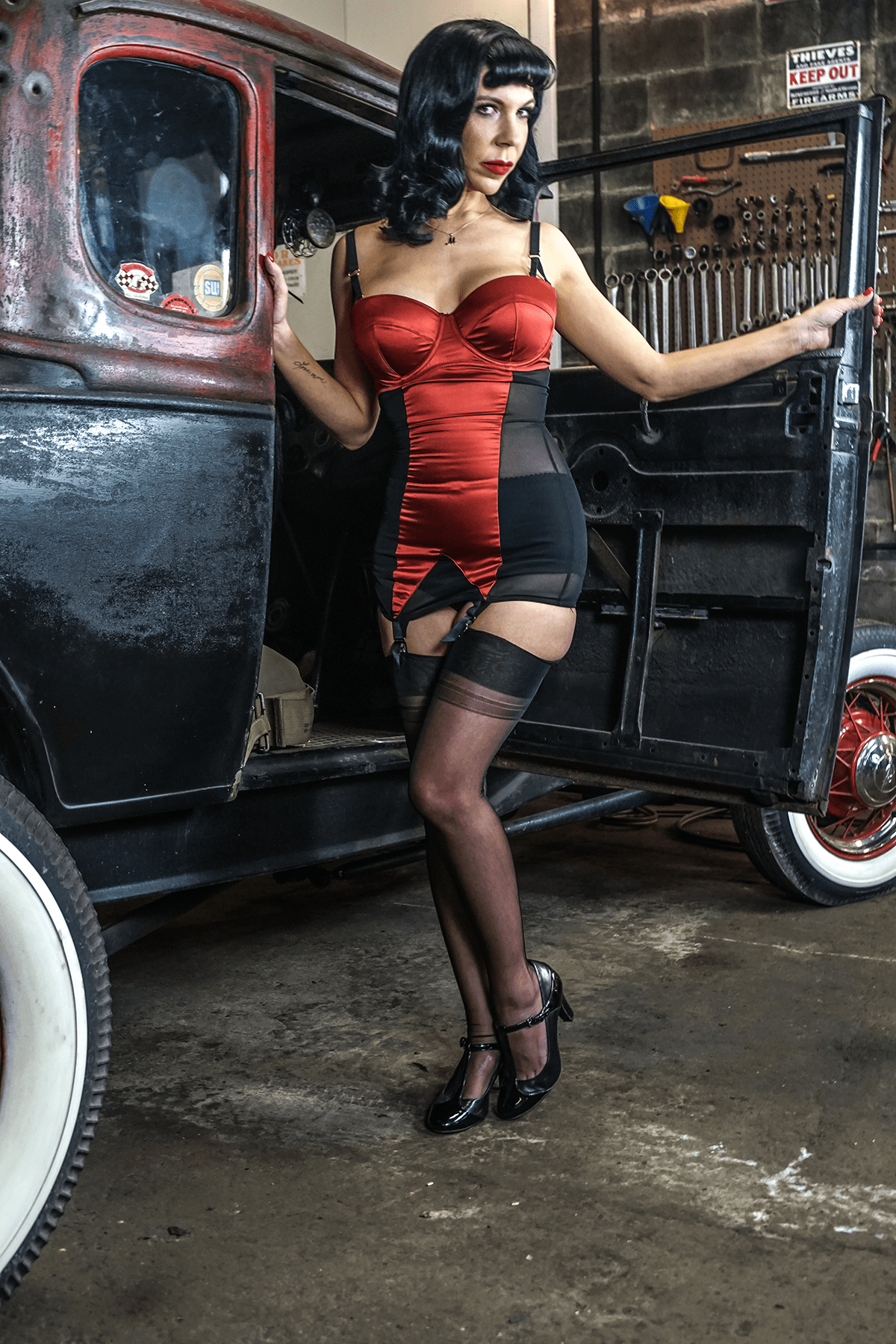 What other areas of art are you involved in?
I grew up a dancer. There's a special place in my heart for ballet, but I learned all styles: jazz, musical theatre, hip hop, tap, contemporary, and acro. I'm a dance instructor, so dance is still a big part of my life.
I also love the theatre. I attend as many shows as I can and I always love it when I get an opportunity to be part of the cast.
My dance and theatre background have helped me be a better model. I already know about proper body alignment without looking in a mirror. I know how to point my feet and make my legs look longer than they are.
Photographers always tell me they're happy that they don't have to pose me!
Do you think your environment, where you live, has an effect on the type of art you create?
The only impact "where I live" has on the type of art I create is that I'm geographically far from California, Las Vegas, Texas, and the Pacific Northwest. The car and pinup kultures on the west coast are huge. So, my location makes it difficult for me to experience those events live.
With the internet and social media, however, we get exposure to what others are doing all over the country in real time. So, I get creative ideas from seeing what pinups, musicians, car clubs, and car builders are doing from all over the country!
What advice would you give to someone who wants to become a pinup model?
My advice is "go for it!" The pinup community is so welcoming and it's full of really great ladies!
I'm proud to be a member of such a great community—where women build each other up, provide advice and guidance (and sometimes safety pins and lipstick), and enjoy each other's company.
So, go get yourself a vintage pencil skirt, thigh high stockings, a pair of heels, red lipstick, and some victory rolls and sign up for the next contest!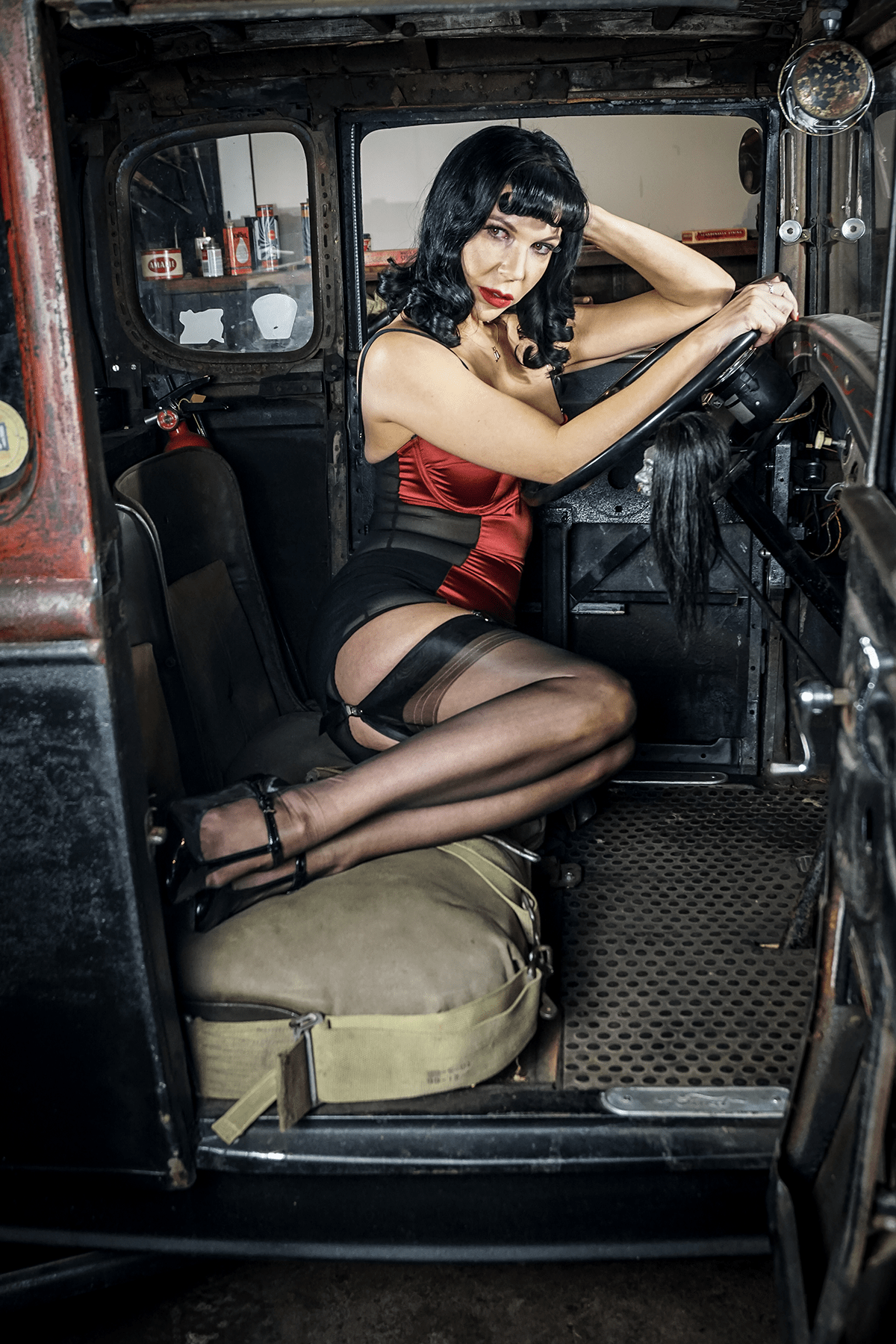 What do you think the popular culture will be like in ten years?
It won't be what I want it to be. I'm sure we'll continue on the path of digitizing everything!
In my view, I hope it's influenced by our past. I wish I could walk out in public with victory rolls, and not get stares. I love seeing old vehicles parked on the street. Don't get me wrong, there are some cool vehicles out now, but none of them are as exciting as the cars from the '40s through the '70s. I'd also love to see Elvis, Johnny Cash, and Reverend Horton Heat influence the music of tomorrow.
Who knows what it will be like in 10 years? Maybe we will all be walking around in silver space suits, with flying cars, iPhones plugged into our arms, and techno music! But I'm voting for a return to the '50s.
What's the strangest thing you've been asked to do in your profession?
Hmmmmm… the strangest thing? I'd have to say having an older guy at a car show ask me if he could touch my boobs! That question caught me off guard. I told him maybe at the next show! LOL.
I've also had guys ask me for pictures of my feet and to buy my used stockings. Everyone has their own unique interests I guess.
I'm pretty go with the flow, so no ask really offends or surprises me! Oh…you want me to stand on your car, ok! Pose with your goat, sure! Be carried on stage by the lead singer of a band pretending to be dead, yep I'm your girl! (I've actually done all of these things).
What projects are you working on now?
I'm always working on something. A few years ago, a good friend and I started the Steel City Rockabella pinup club. We have grown that club to eight members. The Steel City Rockabellas focus on raising money for various charities that help veterans of the armed services. Every summer we pick a new veterans' charity and spend the summer raising money for it by taking donations and selling t-shirts.
I am also committed to building the car kulture and pinup community. I attend as many car shows and pinup events as I can. I also spend time building my Miss Mandy Frank brand through social media to get more people exposed to the pinup community! TikTok loves the pinup community.
I'm also trying to figure out a way to put on a really big car and motorcycle show event. One of the biggest and best shows in Pittsburgh is no longer. Its absence has left a big void in the car kulture community. So, I'm working on a way to fill that void!