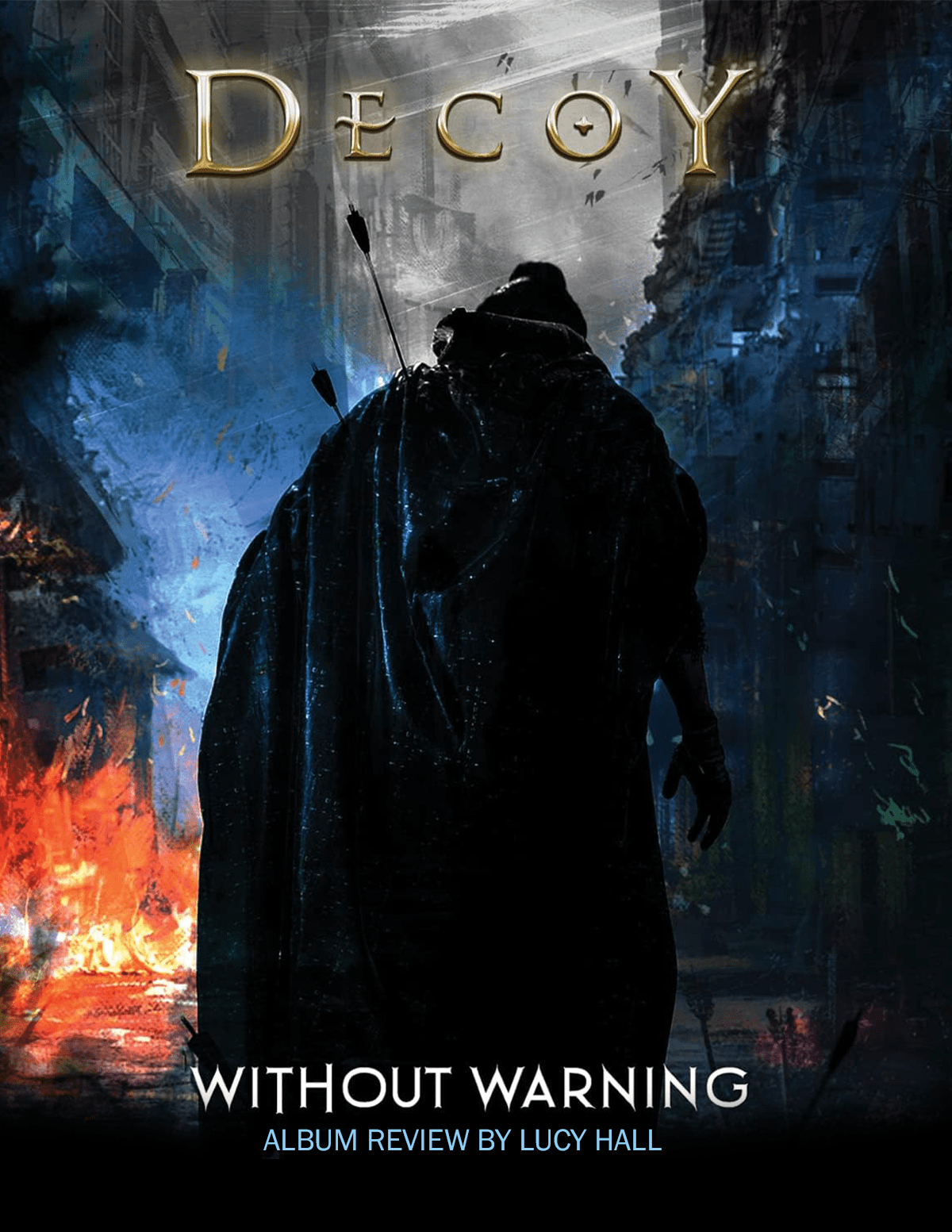 Decoy Without Warning Album Review
By Lucy Hall
If a listener is drawn in immediately, then you know that Decoy has done their job well concerning their latest album, "Without Warning." Whether by chance or by careful planning the intros and outros for this album are amazing. It was something that stood out to me. The track list contains some of the catchiest introductions of all time. Every single song on the album began with riff or synth patterns that intrigued me and built suspense to draw me into each one. Every well-produced outro was a satisfying conclusion to the hard rock intensity built up in the song's timeline which keep me engaged, and left me lingering and wanting more. These patterns made the album flow for me. 
Decoy is the brainchild of veteran rockers, singer Peter Sundell (C.O.P., Ex-Grand Illusion) and guitarist and songwriter Torben Enevoldsen (Fate, Acacia Avenue). The band produced its debut album Call of The Wild in 2007, following the release Torben and Peter went on to work on other projects. Fifteen years later Decoy has unleashed a powerful and long-awaited follow-up album that fans have been anticipating. The new album features Pete Steincke (Fate) on bass and Dennis Hansen (Acacia Avenue, Section A) on drums.
The tracklist consists of eleven melodic hard rockers with a touch of classic rock. The rich, layered sound, heavy melodic hooks, catchy sing-along choruses, and Peter Sundell's powerful voice instantly hooked me as a listener. The album is full of both fast-paced hard rockers, anthem-worthy songs, and pop-influenced up-tempo grooves. 
I enjoyed "Without Warning" and "Reach Out." I felt that both were epic, adventurous songs with soaring vocals, and great guitar solos, and they have a power metal edge to them which I loved. Other highlights for me were "We Live, We Learn" which is an upbeat anthem with catchy guitar riffs, and iconic keyboards that drive the song forward with its melodic chorus. "All or Nothing" is another noteworthy song I enjoyed that displayed Enevoldsen's impressive guitar work.
It is evident that Decoy has not lost its edge. This is evidenced by their ability to continue to produce well-crafted, memorable songs, and the fact that they still possess that superior musicianship and powerhouse production quality. After, fifteen years they are still hitting listeners right between the ears with their top-notch brand of melodic hard rock. Buyers will not be disappointed; every song is awesome and has been well worth the wait. So, do not waste another single second! Pick up the album today from Perris Records. 
Perris Records Official Site:
All tour dates are listed daily at Decoy Official Facebook: https://www.facebook.com/decoyonfacebook/
Official Band Site: https://www.torbenenevoldsen.com/om