Pin-up: Sugar Demise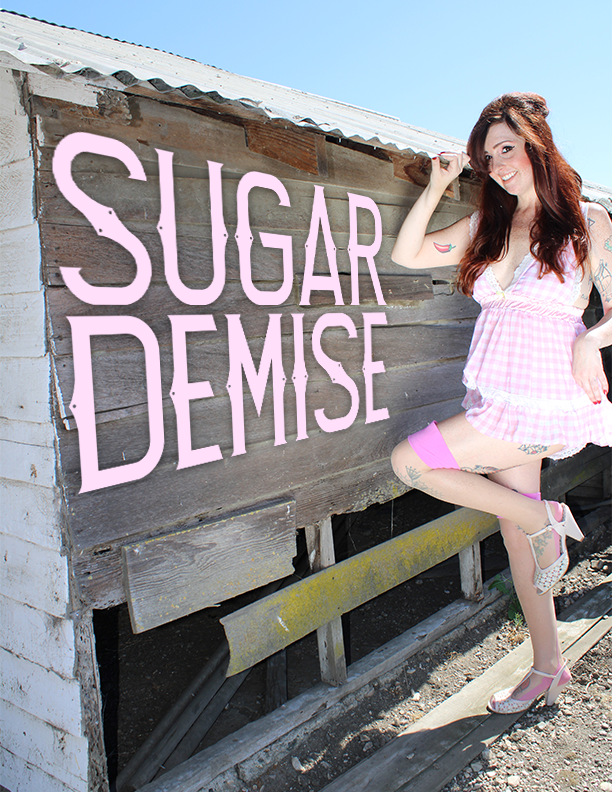 Where are you from? What is your background?
I'm a California girl. I have a professional background in writing. This part sounds kind of cool to say aloud – I have a dance background. Even though I've always been a dancer and have danced tons of styles, my heart lies with traditional Egyptian bellydance. I've been doing it for about 20 years now. I mainly dance for myself and for fun nowadays.
What inspired you to become a model?
Modeling is a hobby. So is my photography. I've always had an appreciation for decades past – music, movies, fashion. Others have told me I was born in the wrong decade and I fully agree. Pin up is a type of modeling that is for every gal (or guy) with a fun twist.
I wanted to become a pin up girl once I hit a milestone age, but I didn't make it happen. So, I did the following year. When I first started, I worked with both a professional photographer and a hair and makeup artist. It was so much fun and I wish I could do that all the time! It's nice to be pampered, transform for the day, and have a photographer coach you and do the work.
Since my life and the world changed, I began doing my own thing as a hobby. In school, I took photography and enjoyed it. When I was younger, I loved playing dress up. I still think of it as dress up! It seemed like a natural transition to use my clothes, style myself, and take my own photos. Pin up is accepting, it's positive, it's empowering. And that's exactly why I started doing it. Confidence is addicting.
What are the pluses and minuses of modeling?
The biggest plus of modeling is that it's fun! You dress up and become someone else for the day. It's hard to hold a smile, especially while sticking out parts and sucking in others. You take hundreds of frames and only end up with about a quarter of decent shots. Eventually your smile and your body will just tank; your feet will get sore and heavy. When you shoot your own photos, it's even more physical. Up and down, all the time. It takes hours. But through it all, you end up with some fantastic shots.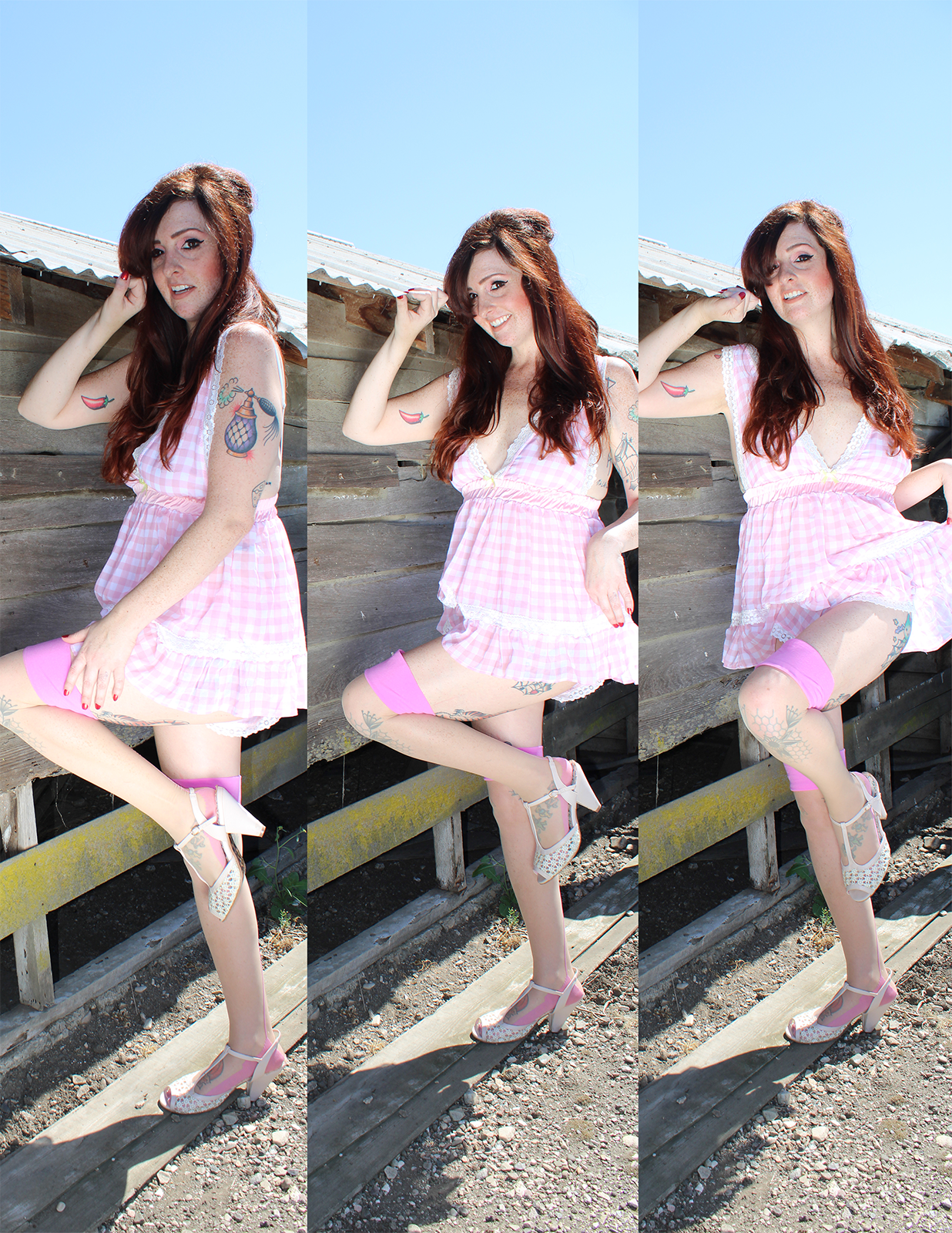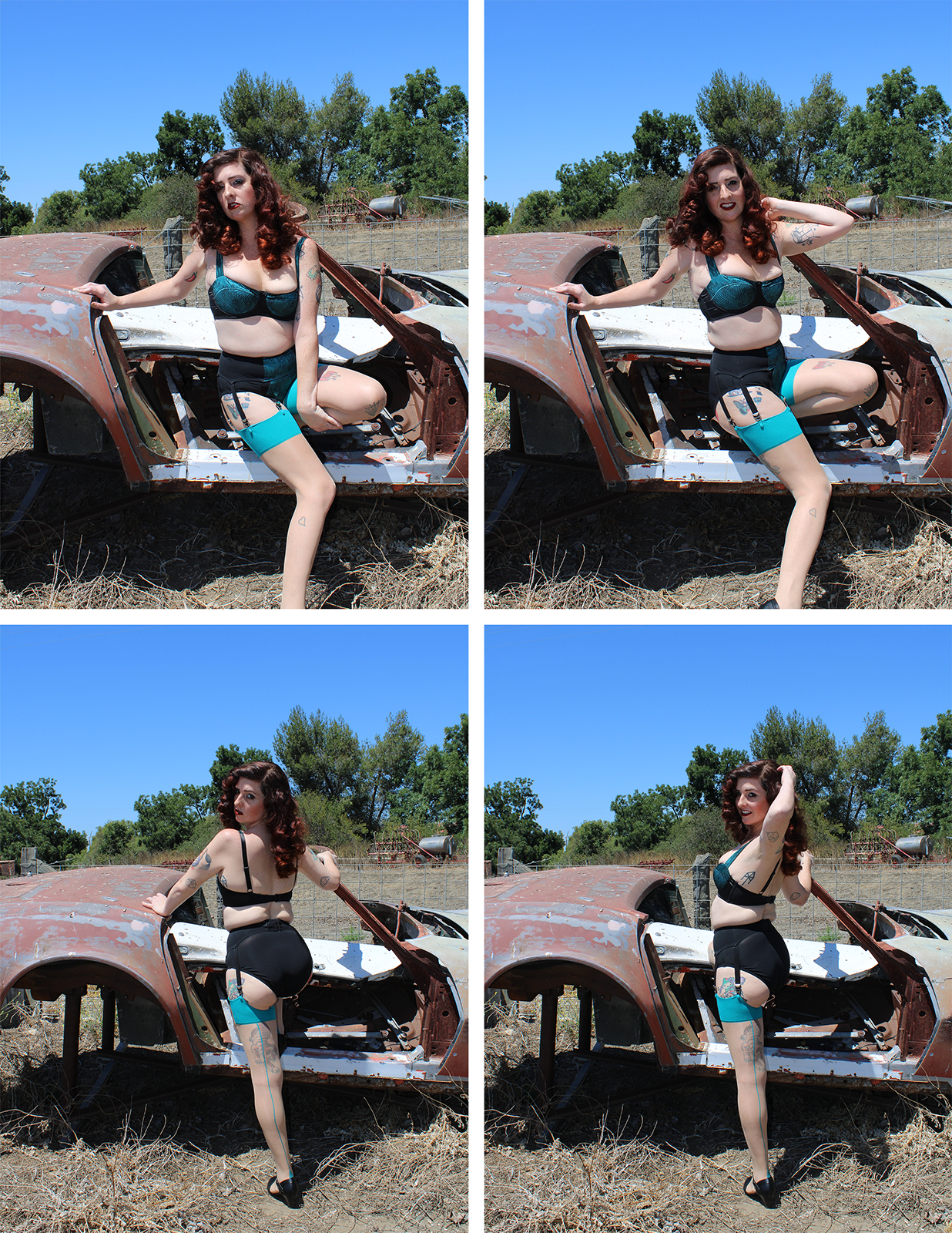 When you model, you find yourself producing expressions and poses that you had no idea you could even do with your face and body. There are some hilarious ones too! It's incredible! For me, as actually a fairly shy person, it's a way to express myself without performing for a live audience. My advice to others would be – don't expect to get into modeling to make any money. Do modeling for you, do it until it stops being fun.
What performer or artist/writer inspires you the most?
As a pin up, Jeanne Crain, Rhonda Fleming, Greer Garson, Ann Sheridan, Ann-Margret, and Brigitte Bardot. Gotta love the fellow redheads, and then, there's Brigitte – she has that undeniably sultry, '60s look. As a photographer, the queen of pin up photography, and model, "Bunny" Yeager as well as Cindy Sherman. Cindy Sherman transforms herself into so many different personas and takes her own photos. If you haven't seen her work, check it out. She's amazing! I love costumes, vintage lingerie and kitsch, Halloween, and Horror movies and books as well.
What other areas of art are you involved in?
I used to paint with acrylics. I write. I always have a sewing project going; I hand sew everything. I do lots of crafts and love creating my own costumes and accessories!
Do you think your environment, where you live, has an effect on the type of art you create?
Absolutely! I currently live on a farm, which makes for a lot of neat backdrops, but I'm running out of places to shoot here. Gonna have to venture out into the world more… which is a little challenging in lingerie.
What long term goals do you have?
As far as pin up goes, I know you're not supposed to say this, but I'd like to score a cover. It would feel really good. I imagine I'll want a couple once I receive one. I value the friendships I've made with other pin up gals. I plan to keep on playing dress up until it stops being fun.
For my life: own a home, travel a little, be in love, maybe be a stepmom… be a (pretty) good person. I'd like to be a good role model for my niece, and any kids in my life, and show them a different type of caring, beautiful, confident woman. You can be quirky, confident, beautiful, AND smart.
What do you think the popular culture will be like in ten years?
Ugh, I don't even want to think about it, haha! Seriously, I don't. Pretty sure I'll always live in the past in some capacity.
What's the strangest thing you've been asked to do in your profession?
The strangest things are acts I make myself do! Being a Horror genre fan, I like to push the envelope a little. I don't mind getting messy with fake blood or dirt. Some of the photos I took for this publication were in 100-degree heat. That was brutal! I fell during a shoot last year and ended up with cuts and bruises. I just laughed it off!
Sometimes I get bold and go on a field trip elsewhere. It becomes kind of a rogue operation, trying to take photos before I run into someone or until they start staring! I took some photos at a local pumpkin patch, down the road this past Fall, and was surprised how accepting the staff and owners were with me shooting! They were very supportive!
In general, once I get a little comfortable, I take more risks with poses. It's neat to see how far outside the box I can think.
What projects are you working on now?
I'm always working on something creative! Sewing costumes and outfits for shoots and events. I've started working with reflectors in my photography (as you might be able to tell), and that has made a world of difference in what I can create on my own.
In looking ahead over the year, I usually plan one shoot a month. I have some neat ideas up my stockings… Maybe a possible pin up-esque side business venture or two. I have loads of ideas, just gotta do them!