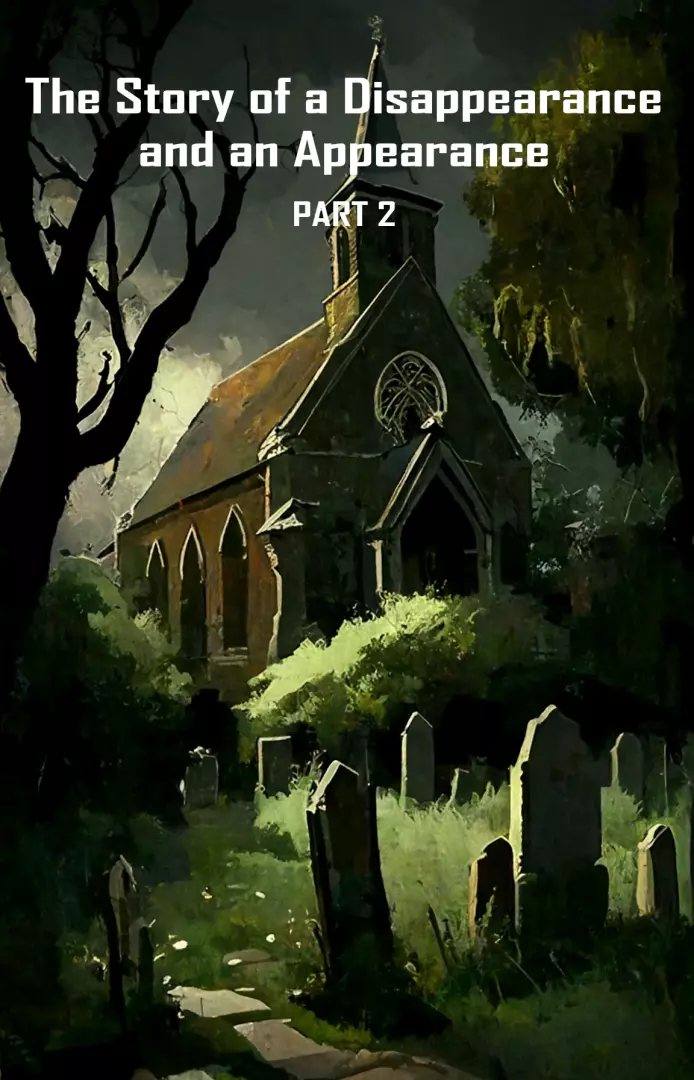 The Story of a Disappearance and an Appearance Letter II
LETTER II
KING'S HEAD, Dec. 23, '37.
My Dear Robert,
In the first place, there is as yet no news of Uncle H., and I think you may finally dismiss any idea—I won't say hope—that I might after all 'turn up' for Xmas. However, my thoughts will be with you, and you have my best wishes for a really festive day. Mind that none of my nephews or nieces expend any fraction of their guineas on presents for me.
Since I got here I have been blaming myself for taking this affair of Uncle H. too easily. From what people here say, I gather that there is very little hope that he can still be alive; but whether it is accident or design that carried him off I cannot judge. The facts are these. On Friday the 19th, he went as usual shortly before five o'clock to read evening prayers at the Church; and when they were over the clerk brought him a message, in response to which he set off to pay a visit to a sick person at an outlying cottage the better part of two miles away. He paid the visit, and started on his return journey at about half-past six. This is the last that is known of him. The people here are very much grieved at his loss; he had been here many years, as you know, and though, as you also know, he was not the most genial of men, and had more than a little of the martinet in his composition, he seems to have been active in good works, and unsparing of trouble to himself.
Poor Mrs. Hunt, who has been his housekeeper ever since she left Woodley, is quite overcome: it seems like the end of the world to her. I am glad that I did not entertain the idea of taking quarters at the Rectory; and I have declined several kindly offers of hospitality from people in the place, preferring as I do to be independent, and finding myself very comfortable here.
You will, of course, wish to know what has been done in the way of inquiry and search. First, nothing was to be expected from investigation at the Rectory; and to be brief, nothing has transpired. I asked Mrs. Hunt—as others had done before—whether there was either any unfavourable symptom in her master such as might portend a sudden stroke, or attack of illness, or whether he had ever had reason to apprehend any such thing: but both she, and also his medical man, were clear that this was not the case. He was quite in his usual health. In the second place, naturally, ponds and streams have been dragged, and fields in the neighbourhood which he is known to have visited last, have been searched—without result. I have myself talked to the parish clerk and—more important—have been to the house where he paid his visit.
There can be no question of any foul play on these people's part. The one man in the house is ill in bed and very weak: the wife and the children of course could do nothing themselves, nor is there the shadow of a probability that they or any of them should have agreed to decoy poor Uncle H. out in order that he might be attacked on the way back. They had told what they knew to several other inquirers already, but the woman repeated it to me. The Rector was looking just as usual: he wasn't very long with the sick man—'He ain't,' she said, 'like some what has a gift in prayer; but there, if we was all that way, 'owever would the chapel people get their living?' He left some money when he went away, and one of the children saw him cross the stile into the next field. He was dressed as he always was: wore his bands—I gather he is nearly the last man remaining who does so—at any rate in this district.
You see I am putting down everything. The fact is that I have nothing else to do, having brought no business papers with me; and, moreover, it serves to clear my own mind, and may suggest points which have been overlooked. So I shall continue to write all that passes, even to conversations if need be—you may read or not as you please, but pray keep the letters. I have another reason for writing so fully, but it is not a very tangible one.
You may ask if I have myself made any search in the fields near the cottage. Something—a good deal—has been done by others, as I mentioned; but I hope to go over the ground tomorrow. Bow Street has now been informed, and will send down by to-night's coach, but I do not think they will make much of the job. There is no snow, which might have helped us. The fields are all grass. Of course I was on the qui vive for any indication today both going and returning; but there was a thick mist on the way back, and I was not in trim for wandering about unknown pastures, especially on an evening when bushes looked like men, and a cow lowing in the distance might have been the last trump. I assure you, if Uncle Henry had stepped out from among the trees in a little copse which borders the path at one place, carrying his head under his arm, I should have been very little more uncomfortable than I was. To tell you the truth, I was rather expecting something of the kind. But I must drop my pen for the moment: Mr. Lucas, the curate, is announced.
Later. Mr. Lucas has been, and gone, and there is not much beyond the decencies of ordinary sentiment to be got from him. I can see that he has given up any idea that the Rector can be alive, and that, so far as he can be, he is truly sorry. I can also discern that even in a more emotional person than Mr. Lucas, Uncle Henry was not likely to inspire strong attachment.
Besides Mr. Lucas, I have had another visitor in the shape of my Boniface—mine host of the 'King's Head'—who came to see whether I had everything I wished, and who really requires the pen of a Boz to do him justice. He was very solemn and weighty at first. 'Well, sir,' he said, 'I suppose we must bow our 'ead beneath the blow, as my poor wife had used to say. So far as I can gather there's been neither hide nor yet hair of our late respected incumbent scented out as yet; not that he was what the Scripture terms a hairy man in any sense of the word.'
I said—as well as I could—that I supposed not, but could not help adding that I had heard he was sometimes a little difficult to deal with. Mr. Bowman looked at me sharply for a moment, and then passed in a flash from solemn sympathy to impassioned declamation. 'When I think,' he said, 'of the language that man see fit to employ to me in this here parlour over no more a matter than a cask of beer—such a thing as I told him might happen any day of the week to a man with a family—though as it turned out he was quite under a mistake, and that I knew at the time, only I was that shocked to hear him I couldn't lay my tongue to the right expression.'
He stopped abruptly and eyed me with some embarrassment. I only said, 'Dear me, I'm sorry to hear you had any little differences; I suppose my uncle will be a good deal missed in the parish?' Mr. Bowman drew a long breath. 'Ah, yes!' he said; 'your uncle! You'll understand me when I say that for the moment it had slipped my remembrance that he was a relative; and natural enough, I must say, as it should, for as to you bearing any resemblance to—to him, the notion of any such a thing is clean ridiculous. All the same, 'ad I 'ave bore it in my mind, you'll be among the first to feel, I'm sure, as I should have abstained my lips, or rather I should not have abstained my lips with no such reflections.'
I assured him that I quite understood, and was going to have asked him some further questions, but he was called away to see after some business. By the way, you need not take it into your head that he has anything to fear from the inquiry into poor Uncle Henry's disappearance—though, no doubt, in the watches of the night it will occur to him that I think he has, and I may expect explanations tomorrow.
I must close this letter: it has to go by the late coach.